Academics
At Pomerene, we believe students have the right to a meaningful curriculum and to voice their opinions through representatives of the student government in the development of such a curriculum.
We Adhere to AZ State Standards
The Pomerene curriculum adheres to Arizona state standards in all subjects, including the core areas of language arts, mathematics, science, and social studies. We also offer instruction in art, music, and physical education.
Academic Team
We're proud of our Panther Academic Team members. These top students represent us well at local and state competitions.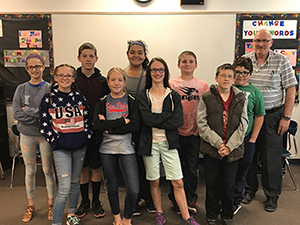 Additional Programs
We believe in strong programs that supplement our regular curriculum. Additional programs include the following: